Start your engines
The fun is limitless
With a futuristic design and bright LED lights, this mini-car for kids is easy to spot day or night. Children will love driving around the neighborhood in this 1-seat ride-on with its easy-to-learn steering wheel and foot pedals that will get them going up to 2 mph.
---
Battery
2 x 6V, 4Ah rechargeable lead-acid

---
Throttle Type
Foot accelerator and remote control operation

---
Tires
Plastic with rubber grip

---
Lights
LED lights on hood, wheels and rear

---
Charging Time
Up to 2 hours

---
Product Dimensions (L x W x H)
29" x 51" x 18.5"

Owner's Corner
OPEN MANUAL
FAQ
REGISTER PRODUCT
Customer Reviews
Write a Review
Ask a Question
05/18/2019
Anonymous
United States
My son loves the new car.
My son really loves a new car. The technology is so cool.
THE BEST
I got this for free from Bazaarvoice and we love it...This is my daughter's first car and for family who loves cars...our 5years old feels like a race car driver...She has so much fun and it's very easy for her to learn how to drive..A must have for kids..Great features and easy to put the tires because the car itself is already assembled..
Fun for kids and parents
This car is fast easy to put together and fun. My 2 year old is still learning to drive it but the controller allows parents to control the car. There is a slow mode and fast mode. When the car is turned on it starts like a real car. The lights add extra fun. There is nothing I dislike about this car is a joy.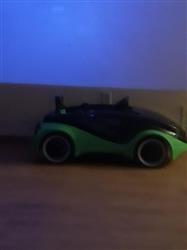 Awesome
My daughter loves this thing! The lights are super cool on the wheels and body of the car. I like the remote control so that I can driver her around first until she learns how to control it herself. The car itself isn't huge which makes it easy to store. There are also 2 different speeds which is nice for her. Overall, I think it's a great little car for kids.
Dream Car for my 3 year old!
The box on this new Jetson Moby car says ages 5 and up but my 3 year old went nuts for this car. From the ignition start sound to the light up LED wheels l, this thing has it all. There is a lot of attention to the smallest details and although we have only been using it for a week, I can tell the car will last with how durable it was made. My favorite detail is the doors that open up like a De Lorean and the electric charger that plugs in like a Tesla. I will say the remote control that allows you to control the vehicle is a necessity if you are using it with a young child like mine. We used the car inside and outside. I was also impressed that it went over the bumps in our sidewalk with ease. My one and only complaint was that the assembly was difficult until we found the manual on the Ride Jetson website. Then it was a breeze. For some reason no manual or tools were included in the box. This two speed race car is the real deal and would make a great gift to a child or grandchild if you want something unique and awesome!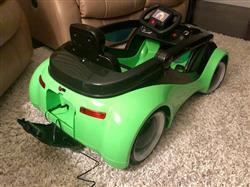 Related Items