The Jetson Journal
Hey Green City Commuter: E-Mobility Transportation Is the Future
Feb 09, 2021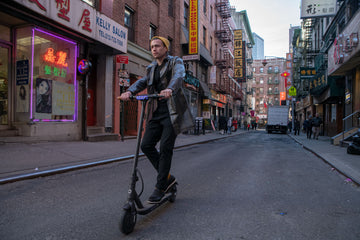 Did you know that most Americans spend approximately 1 hour going to and coming back from work every day? Commuting time differs from state to state, depending on what transportation method each city commuter chooses.
Luckily, a lot of improvements are being made when it comes to urban mobility. For example, you might be able to get to work sooner by using an electric scooter or electric bike. These transportation methods are more environmentally-friendly and more fun to use too!
Keep reading to learn more about sustainable transportation alternatives and how they can reduce travel time in a busy city.
Travel Using Electric Scooters
Electric scooters are increasingly popular these days. You can rent one for a small price or buy yours and use it for years. Electric scooters can be charged from a standard power outlet and they offer impressive battery life, especially when used economically.
Best of all, electric scooters can cut back on your travel time to and from work. You can hop on your scooter, have fun riding it on sidewalks, and take it with you when you arrive at work. If it's necessary, you can plug in the electric scooter and recharge it for your ride back home.
As a result, your carbon footprint is reduced, you get to breathe fresh air, and save a lot of time while commuting through a busy city.
Travel Using Electric Bikes
Gone are the days when you had to pedal your way to work. Now you can hop on your bike and just enjoy the ride. Modern electric bikes are lightweight, fast, and can provide hours of battery life. And you can take them with you when you arrive at the destination.
The market offers a plethora of options when it comes to electric bikes. Some of them are small and lightweight, others are larger and faster. You can also find foldable electric bikes at affordable prices. It's increasingly easier to ditch your car and travel quicker through a busy city.
Electric bikes can also be charged via a power outlet and they incorporate bright LED lights. An LCD also shows you the remaining battery life, speed, and other relevant travel data.
Travel Using Hoverboards
Hoverboards are also very popular these days and they are suitable for both kids and adults. They provide a unique travel method and they are not difficult to use. Most people learn how to ride one in just a few minutes and then they don't want to get off!
Hoverboards use electric motors to move a normal person for long distances. You can use them to go to work and carry them inside when you arrive there. Some of these products also incorporate attractive lighting options that will make you stand out from the crowd in the evening.
Now Every City Commuter Has a Choice!
If you're an open-minded city commuter, you probably can't wait to try these devices and see how much fun you can have with them. You can leave your car in the garage, spend less on fuel, and enjoy a more entertaining commuting method by opting for a scooter, electric bike, or hoverboard.
If you want to get inspired, check out our collection of rides. You might never go back to the traditional way of traveling again!