Grow with Jetson Light Rider Kids' Bikes
Bright colors. Beaming lights. Step-up sizing.
Kids can grow up and glow up with our signature light-up bikes.
For the fun.
Attention-grabbing lights – in changeable colors and patterns – get kids pumped to ride.

Little kids love the push-button illumination fun.

Older riders like choosing a style that reflects who they are.
For the visibility.
Up to 80 gleaming LEDs per bike make for safer street and sidewalk adventures.

Riders stay more visible – and are easier to keep an eye on.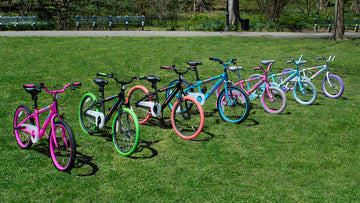 For the course.
3 different frame sizes – all with height-adjustable seats and handlebars.

The Light Rider line-up keeps pace with growing kids.
Light Rider 12
Light Rider 16
Light Rider 20
Perfect for
Getting tots on a roll
Preschoolers ready to push off
Grade-schoolers on the go
Wheel size
12"
16"
20"
Frame
Our most petite – for the littlest riders
Slightly sized up – for bigger beginners
The largest – to support older, active kids
Brake
A pedal-backwards coaster brake for hands-free slowing down
Handbrake control of front and back wheel caliper brakes
"Just right" feature
Premium, light-up training wheels – included and easy to attach
Sturdy steel kickstand – perfect for pit stops
Key features
Every Jetson Light Rider also has:
Shop our Light Riders now
Sale price
$124.99
Regular price
$149.99
Sale price
$159.99
Regular price
$179.99
Sale price
$169.99
Regular price
$199.99