Play powered by fun!
Energize your kick scooter
This awesome electric scooter is covered in over 100 LED lights that totally brighten the fun. With the unique kick motion motor activation design, just step on the deck, push off the ground with your foot, and once in motion the motor is activated. The Neo is here to play.
---
Climbing Angle
15 degrees

---
Battery
1.54Ah rechargeable lithium-ion

---
Throttle Type
Cruise sensor

---
Handlebar Height
Adjustable: 28.75" - 30.75"

---
Wheels
Front: 5", Back: 3.5"

---
Lights
LED stem, deck, and light up wheels

---
Charging Time
Up to 3 hours

---
Product Dimensions (L x W x H)
28" x 12.5" x 30.75"

Owner's Corner
OPEN MANUAL
FAQ
REGISTER PRODUCT
Customer Reviews
Write a Review
Ask a Question
04/18/2019
Anonymous
United States
Look so good
My daughter soso love this scooter
Thin and sleek
Great kids scooter! Noticeable quality right out of the box. The user manual provided adequate information and images to thoroughly assist with assembly. Easy to assemble, with no major tool skill required. Has a sleek design and is user friendly. I really wish it would fold because it's not so easy to store when assembled. Riding it is easy for my 9 year old. She is able to go and stop with ease. The adjustable handlebar is good for making her height. She rides it for fun and to school and absolutely loves it. The lights are fun but also provides safety.
Works great!
This scooter is great! Its designed to make it easy to travel it folds down to make it easy to fit when traveling. Very lightweight and not heavy and easy assembly. When riding it's great quality makes it great for impact does not scuff or scratch easy and does not break. The best feature is the lights makes it look very cool at night. It is electric when you put your food in the middle of scooter it starts the electric so no buttons required just get on and go it's not super fast it's perfect for little ones to just get on and go. Without loosing control or falling off perfectly design. My 6year old loves it.. it goes everywhere with us.i definitely reccomend this product. The brand jetson is 0ne of my favorite go to brands cause there quality is great. Perfectly design products.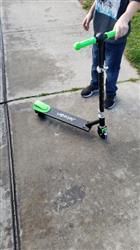 Really fun!
The Jetson Neo Kids Electric Scooter, Kick to Start, with LED Light-Up has been a lot of fun for my daughter. really easy to set up and star playing with it. I really recommend this toy for any kid looking for lots of fun.
Related Items