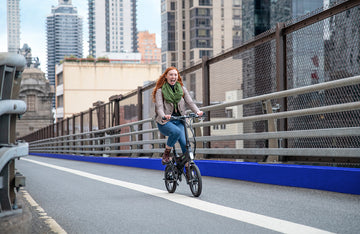 The results are in folks. There is now enough scientific evidence to prove that you'll get a much better workout with an electric bike compared to walking.
After reviewing 17 studies worldwide, Jessica Bourne, the lead author of this systematic review and a Ph.D. student at the University of Bristol, concluded that riding an e-bike provides a moderate intensity level of physical activity, which is higher than walking but less than cycling.
You can now ride for longer, at higher speeds and improve your overall health in the process. Still not convinced? Here are three more reasons why you should ride an e-bike.
It's more affordable
Getting a high-quality electric bike will cost you less than $1,000 and as far as maintenance costs go e.g., brake pads, chains, tires etc., you'll spend roughly the same amount as you would on a conventional bike.
You can also forget about paying for gas because all you need to do is charge the battery and you're golden. And as far as commuting goes, you'd be hard-pressed to find a better option.
In other words, it's a heck of a lot cheaper than buying a car, paying for insurance, and parking. What's more, you no longer have to sit through traffic, you get to avoid crowded buses and trains and save a considerable amount of money in the process.
It's a healthy option
You already know that cycling does more for your health than an electric bike. But how often do you use that conventional bike?
Studies show that about 25% of conventional bikes are used on a daily basis compared to the 34% of ebikes used every day. E-bike users have been shown to average longer distances compared to conventional bike riders as well.
Cycling may be great for improving your overall health, but if you let your bike collect dust in your garage, then you'll never reap those benefits.
Electric bikes provide a great commute, so you'll be able to get to work without breaking a sweat compared to a conventional bicycle and save the workout for the ride home. You can also relax when you get to a hill because e-bikes were designed to help you conquer them easier and much faster.  
It's a chance to spend more time outdoors
Remember when you first learned how to ride a bike?
Granted, it was scary at first, and you probably hit the ground more than a couple of times before you mastered it but once you did, it became so much fun. You would then go out, meet up with friends, enjoy the scenery, get fresh air and be one with nature.
That's the experience you get with an electric bike; you get time away from screens and can spend some quality time outdoors.