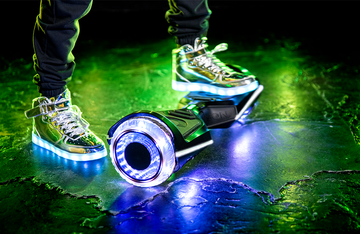 If you're looking for a radically fun gift to give to yourself or somebody else - the Jetson Rave Hoverboard is for you. This brand new electric hoverboard has customizable LED light-up wheels and an enhanced Bluetooth speaker so you can take the party on the road. With the extreme terrain tires and anti-slip mat, you can take the party pretty much anywhere. 
You Got the Party with You - Riding around on a hoverboard is already fun, but the addition of the Rave's bright LED light-up Cosmic wheels and advanced Bluetooth speakers takes it up a level. You can play your favorite songs with crisp, clear sound and customize your wheels to flash whatever colors you like. The wheels will even pulse to the beat of your music.
Active Balance Technology - The Rave's Active Balance Technology keeps you level and stable as you ride. With a bar inside the board that communicates between the left and right footpads and an anti-slip grip mat, you can focus on fun while the Rave keeps you safe. You can also use the free Ride Jetson app to adjust the settings to beginner, intermediate, and advanced riding levels so you never have to feel uncomfortable while you cruise.
Take It Anywhere - The Rave's extreme terrain tires allow you to take your ride wherever you want, from your neighborhood and school campus to boardwalks and bike paths. 
Keep it Connected - Easy controlling of the Rave hoverboard is right at your fingertips with the free Ride Jetson app, available on Google Play Store and the Apple App Store. You can track your ride, change your speed settings, control your music, customize your lights, and connect with friends.  
If you want to share the gift of thrills, the Jetson Rave Hoverboard is your new go-to gift.