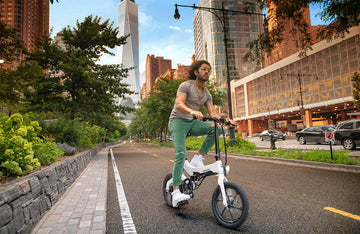 *This article has been updated. Check out the latest edition here. 
E-bikes are a major emerging trend in recent years - and for good reason. People love the ability to travel around their hometowns and cities in a fun, healthy, and climate-friendly way. But because so many new bikes, scooters, and skateboards are being released to the market, city governments around the country haven't necessarily finished making determinations about rules and regulations surrounding this exciting new form of transportation.
In particular, New York City's current laws allow riders to use pedal-assist electric bikes but not throttle e-bikes or e-scooters. At least for now. Recently, a bill legalizing throttle e-bikes, supported by 20 organizations including the Regional Plan Authority, Transportation Alternatives, and the New York League of Conservation Voters, has been approved by the state legislature. Proponents of the bill point to environmental concerns, clogged streets, poor air quality, and traffic accidents all as reasons to legalize throttle e-bikes.
But Governor Cuomo hasn't signed the bill into law yet, saying that he has safety concerns. Conversations are ongoing, meaning that the legislation isn't blocked, just under review. So, the jury is still out on how laws regarding this particular type of bike, which allows riders to gain speed by simply turning a twist throttle, will play out and how long it might take for legalization to happen (or if it will at all). 
However, in the meantime, folks interested in trying out the fun and convenience of electric bikes can still ride pedal-assist bikes, which allow you to accelerate and engage the bike motor by pedaling, gaining speed and using less energy with each increase in pedal assist level. They're a great, affordable alternative to the struggle that is the NYC subway system and expensive ride-sharing services or taxis. Plus, they're good for your health (and the planet's!).
One awesome option worth considering is the Adventure Electric Bike, a 21-speed mountain bike equipped with a powerful, 250-watt hub motor and nine levels of pedal assist to give you that extra push when you need it. The easily rechargeable battery, concealed within the lightweight aluminum bike frame for your safety, will keep you riding for up to 30 miles. 
As you zoom around the city at up to 15.5 miles per hour, you can track your distance, speed, and battery life with the convenient LCD display. Front and rear disc brakes give you extra stopping power, plus a bright LED headlight and taillight offer increased visibility. 
So why wait until the laws get settled? Hit the streets today with the powerful, lightweight Adventure Electric Bike.