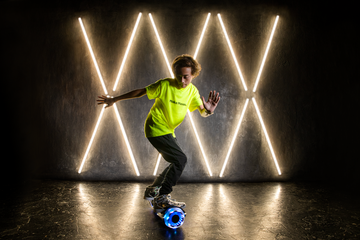 Are you thinking about buying a hoverboard for your child this year? Before you do, check out the five best hoverboards for kids!
Did you know that studies show children who play outside are smarter, less anxious, happier, and more attentive than those who spend most of their time indoors? With that being said, getting your kids outside can be quite the chore!
You don't need to worry though; we have just the trick...Hoverboards! We have put together the perfect list of the top 5 best hoverboards for kids that will get your little ones off the video games and outside again! 
Lets's take a look! 
1. Plasma Hoverboard
The Plasma hoverboard is an all-terrain hoverboard with 500W of power, so it ranks as one of the best off-road hoverboards for kids.  This dual-hub motor model features LED illuminating deck lights for riding in low light conditions or adding a little individuality to the hoverboard. 
The Plasma can reach speeds of up to 10mph and has a weight limit of up to 220lbs. The hoverboard itself is more lightweight than other models coming in at 16lbs, making it easy to carry and handle for kids! 
2. The Flash Hoverboard
The Flash hoverboard is a unique hoverboard for the music-loving kid! This model features Bluetooth speakers that can be used while the hoverboard is being ridden. Additionally, the Flash model features light-up 6.5-inch wheels. This model, like others, can reach a speed of 10mph and has a weight capacity of 220lbs. 
Also, this model can travel up to 12 miles on a single charge. Overall, the Flash hoverboard is great for beginners and experienced hoverboard riders alike because of its superior design and stability features. 
3. The Rave Hoverboard
It's all in the name with this unique hoverboard! The Rave is like a party on wheels with unique flashing light patterns that are customizable via Bluetooth. Your rider can listen to music and get a light show as they travel around on their hoverboard for up to 12 miles on a single charge. 
The Rave weighs in at around 22lbs and has a weight capacity of 220lbs. Additionally, the 400W Rave can reach up to 10mph and has varying sensitivity levels to support sporty moves! 
4. The Magma Hoverboard
The Magma hoverboard might be the best off-road hoverboard for kids! The 6.5- inch wheels are durable and make riding on any terrain simple and fun. This model has 400W of power and a light-up deck. 
The Magma can travel up to 8 miles on a single charge, and it can reach speeds of up to 10mph. The hoverboard is slightly lighter than other models coming in at 16lbs; however, it still has a high weight capacity of up to 200lbs. 
5. The Sphere Hoverboard
The Sphere hoverboard is one of the most customizable hoverboards on the market. The model features seven different color options, built-in lighting, and spectrum light accents. The 300W motor allows riders to reach speeds of up to 10mph, and the Sphere can reach a distance of up to 10mph. 
The Sphere also has unique balance technology that is crucial for riders who are new to hoverboards; this is an important feature because studies show that balance trainingcan improve stability, flexibility, and more. The model is also water-resistant and has a climbing angle of up to 10 degrees, making the Sphere an excellent choice for an all-terrain hoverboard! 
The Best Hoverboards For Kids 
These are our top picks for the best hoverboards for kids. Hoverboards are not only fun; they are also beneficial to your child's health! Hoverboards can increase balance, build confidence, and get your kids outside and playing again, so don't wait! Order your hoverboard today!