The Jetson Journal
8 Activities To Do Outside That Keep Everyone Safe And Happy
Sep 09, 2020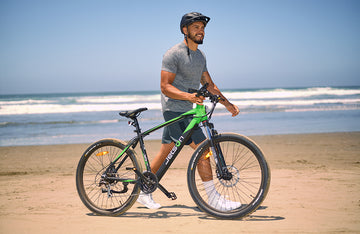 The coronavirus pandemic continues to wreak havoc on the United States. In fact, the nation is barreling towards six million positive cases.
To address this public health crisis, state governments have closed indoor dining, movie theaters, and more. However, there are still so many safe and fun activities to do outside.
Read on for eight outdoor activities that will keep you occupied.
1. Hoverboards
The blockbuster movie Back to the Future has become a reality. Every person remembers Marty McFly zooming around on his hoverboard.
The future is here and now you have an opportunity to buy your own hoverboard. Not only will you have a blast, but you can impress your friends with this brilliant new tech.
2. Mountain Biking
One silver lining from this pandemic is that it forced many people outside. While malls and theaters are closed, biking trails are wide open and ready for exploration.
Biking will help keep you in shape with gyms closed. With our Adventure Bike, you can go further than ever before. The electric motor helps you climb the steepest hills and seemingly impossible terrain.
3. Joyriding
Not everyone is a mountain biker. Some like to ride their bike for the sheer pleasure of it. There are few greater feelings than going joyriding and letting the wind hit your face.
With public transportation curtailed by the pandemic, you should consider an electric bike. This way, you can quickly get to your destination. Not to mention that biking is a lot more enjoyable than riding the bus or subway.
4. Scooters
Scooters are another efficient way to get around. They are great for adults and children alike.
With a scooter, you can zoom between destinations. They are small and lightweight, making them easy to transport. Our scooters even fold up so that you can conveniently store them.
5. Explore a State or National Park
Each state offers beautiful state or national parks. You can go on a real-life adventure by planning a trip to one of them.
Better yet, you can bring your Adventure Bike. This way, you can reach the mountaintop for an epic Instagram shot.
6. Go Swimming
While the summer temperatures are still here, it is the perfect time for a swim. Find a local lake or beach to go swimming.
You can bring a cooler with your favorite snacks and drinks. Swimming is also a great exercise and will help you stay in shape.
7. Fishing
Fishing is one of the most peaceful outdoor activities you can do. Getting on a freshwater lake is pure serenity.
You can go solo or with a group of people. In a world with a lot of noise, the peace and quiet of fishing is a refreshing break.
8. Kayaking
Kayaking is another peaceful activity. With gyms closed, it is a great exercise for your upper body.
You can also cover a lot of ground. There are many beautiful sites to see when a kayak is guiding your way.
Top 8 Fun Activities to do Outside
With so many things closed, you are certainly looking for fun summer activities to do outside. The good news is that nature has so much to offer.
Our advice is to take your Adventure Bike or Rave Hoverboard outside and enjoy the great weather. If you want to learn more about fun activities to do outside, contact us today to buy one of our products.