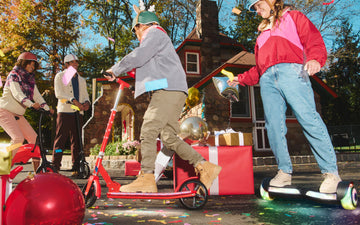 Struggling for Holiday gift ideas? We get it. Buying gifts for family and friends is never the easiest thing in the world. So, if you want to spread some joy this season, get them something that will move them. And when we say move them, we mean, really move them.
For the Little Kids
The Jetson Jupiter Kick Scooter is sure to thrill this Holiday. And with over 100 LED lights on the handlebar stem, wheels, and deck, it's sure to keep the Holiday season merry and bright. Trust us, this scooter will be a hit.
For the Bigger Kids
Sure, there's not many things more fun than a hoverboard. And with its light-up body deck, illuminated rims, and in-built Bluetooth speaker, there's no better hoverboard to get this Holiday than the Hali X. But you can double the fun of the Hali X when you pair it with the Jetson JetKart 2.0. This add on, lets you turn your hoverboard into a Go-Kart. It's bound to keep everyone entertained this Holiday.
For the Grown Ups
Make getting around more fun, whether it's commuting or just traveling the neighborhood, with an e-bike or e-scooter. You'll be surprised just how affordable they are and as gifts they are sure to impress.
For e-bikes, the Bolt is always a winner. Lightweight but with a powerful motor, it can hit a top speed of 15 mph. It's sweet looks plus sweet riding equals one sweet gift.
If it's an e-scooter that you're looking to gift this Holiday, we would go with the Canyon. It's a premium e-scooter that comes with a 500-Watt motor and a battery range of 22 miles. In fact, maybe this is one gift you maybe want to keep back for yourself.
With these recommendations, we have no doubt that you'll crush the Holidays this year. Happy Holidays!