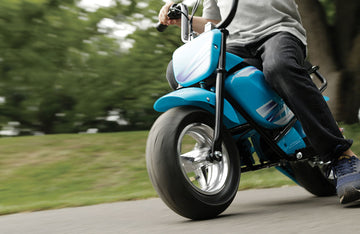 Where to begin?
With so many choices out there for kids kick scooters, electric scooters, ride-ons, go-karts (and the list goes on), how do you decide which option works best for the little tyke in your life? Since we're all about making life easier, we thought we'd try to help with a few suggestions…
The Fun Lovers
If you haven't heard of balance bikes yet, they are the perfect beginner bikes for toddlers from 18 months and up. They are safer than tricycles or training wheels and they help your child develop core strength, motor skills, coordination, and, most importantly, confidence. The extra wide plastic wheels are made to ride on grass, so you don't have to worry about scrapes or bruises. Jetson Gravity Balance Bike teaches children how to balance and steer without the use of pedals. Plus, it's lightweight so it's easy to carry and easy to pack!
The Creative Ones
Jetson Mist is for the free-spirited kid, the one whose imagination runs as wild as they do. This awesome kick scooter got its name from the trail of sparkling mist it leaves behind, which is perfect for outdoor activities with friends in the spring and summer time. Kids will love the colorful mist so much, you'll probably want to teach them how to fill up the water tank (it's super easy), so the fun can go on for hours! The lean-to-steer system is easy to learn for beginners, and still just as fun for the more experienced rider.
The Risk Takers
Jetson Jr. Electric Bike is for the adventurers, the ones who love to explore and push the limits. Kids love it because it looks and rides like a mini-motorcycle. Parents love it because it has two speed settings – 6 mph and 10 mph. So, kids can fill that need for speed and parents can have peace of mind knowing that safety is our top priority.
The Future Race Car Star
For the ones that like to take their fun to the extreme, Jetson Drifter brings it to the next level. This electric powered 360° racer lets you spin, twist, and drift like a pro race car driver. Its powerful chain motor and rechargeable battery push the Drifter to a top speed of 6 mph, and it feels even faster when you're whipping around!
If we didn't cover what you're looking for today, check out our entire kids collection for a bunch of other amazing options!