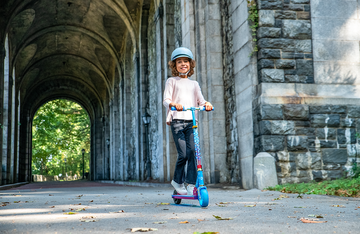 Halloween is here and the delight doesn't end with adorable Anna and Elsa Frozen costumes for your kids. Take trick or treating fun to whole new level with the new Disney Frozen II Kids Folding Electric Scooter.
Key features:
Disney Frozen II design features Elsa and Anna

Shimmering LED lights

Foldable frame

Electric brake

Child friendly speed 

Thumb throttle control
With Elsa and Anna costumes to bring Arendelle to life, all that's missing is a trusted scooter to get you to the treats! 
This child friendly Disney Frozen II themed kids electric scooter features safe maximum speeds of 8 mph and an electric braking system for a quick and complete stop. Since it can be used outdoors, this is the perfect gift to make this Halloween's trick or treating the most memorable yet. 
Its speed allows you to keep up with your child, and the bright LED lights in the deck and stem light up the way to collect the treats. Charge it for four hours to get a full battery. If the charge runs out your child can ride it like a regular kick scooter, or you can fold it and easily carry it home. 
Height adjustable handles guarantee that it can be used by kids of different heights. Belt out the Frozen Disney song "Let it go" this trick or treating season as you Go! Go! Go!
Oh, and the best part? After Halloween, it remains a fantastic indoor toy for the rest of the year.