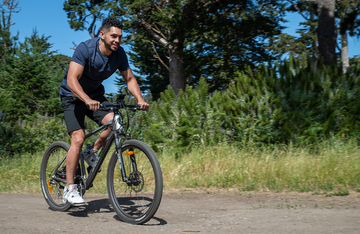 Were your vacation plans derailed this year? 
If so, take heart! There are still plenty of ways you can go on adventures and make new memories with your family. One of those is to plan a group bike trip.
This is a great way to explore the great outdoors, stay active, and follow social distancing, all while seeing some gorgeous scenery with the ones you love the most! 
Before you take off, read on. Today, we're sharing five tips to help make your next family bike trip a big success!
1. Choose the Right Gear
Nothing ruins a great bike ride like having the wrong-sized bike or forgetting important accessories. Though you're eager to head out, take the time to gather all of the important items beforehand.
We offer a collection of electric bikes on our online shop, each designed to provide a different kind of riding experience. While adults might love a bigger model, such as our Adventure Electric Bike, pint-sized riders will need a smaller alternative. Our kids collection is filled with the scooters, hoverboards and electric racers that let them join in on the fun!
Of course, remember that no family bike ride is complete unless everyone is wearing a helmet!
2. Dress For the Weather
Check the weather before you leave so you know what to expect and how to dress. Not only will this help to keep your family warm and dry, but it can also keep them safe. 
If rain is on the forecast, it's important to outfit your kids in clothes that will protect them from wet conditions. If it's going to be chilly, invest in warm activewear jackets and gloves that will make the ride more enjoyable. Try to stick to brightly colored clothing to ensure your family stays as visible as possible. 
3. Bring Water and Snacks
Hydration is critical, especially when you're embarking on a long bike ride with small children. Be sure to bring along a few bottles of water, along with light snacks that travel well, such as nuts, protein bars or dried fruit. 
Along the route, feel free to stop for short breaks to refresh and refuel!
4. Practice Bicycle Safety
Whether you're riding in your neighborhood or along a wooded trail, bike safety is paramount. Teach your children basic hand signals, along with simple rules of the road. 
You can also show them how to check their bike before they leave to make sure all of the parts are in good working order. If they're a little older, teach them how to inspect their brakes and tire pressure!
5. Stick to Kid-Friendly Rides
You've been eyeing that mountain trail for a while, but it's probably not well-suited for your six-year-old. Reserve the hilly, curvy or steep rides for solo adventures or rides with your partner. 
When you bring the whole crew along, stick to routes that are as kid-friendly as possible. Usually, this means short, flat paths that avoid busy roads.
Enjoy a Family Bike Trip Together
Family memories might look a little different this year, but that doesn't mean they can't be special. A family bike trip is a great way to bring everyone together and explore new terrains. 
Looking for new bikes, scooters, hoverboards or other accessories to make your trip unforgettable? We've got the gear you need, along with the tips. Check out this post on other family-friendly activities to try outside this season!