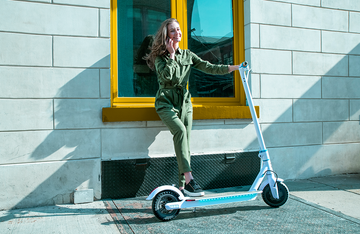 Electric scooters are surging in popularity across the country. Today, those who are seeking more out of their commute or are looking for a fun and convenient way to travel around town are opting for a new and exciting device to whizz around on.
However, let's be honest - not all electric scooters are made equal! One model that's particularly creating a buzz is the Jetson Quest Folding Electric Scooter. Here are some of the Quest's best features.
Visibility 
With winter fast approaching, you'll likely have to travel on your e-scooter in the dark. 
Luckily, the Quest scooter features excellent visibility for improved safety. Featuring bright LED headlights, deck lights, and a taillight you can be sure you'll be spotted even if you're zipping around after dark.
Solid Tires
The Quest scooter offers tough and hardy solid tires designed to absorb shock, making your daily commute a smooth and easy one.
LCD Display
The handy LCD screen shows battery life, current speed, and more so you know exactly how much life your scooter has left in it, even during transit.
Foldable
The Quest model features an easy folding mechanism for portability and storage. Gone are the days where your scooter is left taking up precious space. Instead, fold it up and tuck it away until you're ready for the next adventure.
Speed
One of the best features of the Quest scooter is how fast you can travel around on it! With a max speed up to 15 mph and a max range up to 18 miles, you can ride around town with the wind in your hair.
The Quest scooter features three different gears, so you can control how fast you'd like to go.
The Jetson Quest is a great choice for commuting to and from work, or for those who simply love racing around town on a weekend adventure.