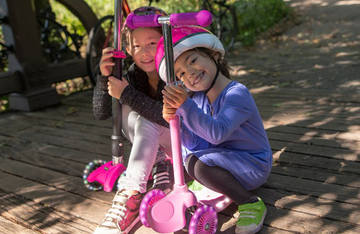 School is back in session, but that doesn't mean that outdoor fun has to end. Fall is the perfect time to get outside and take advantage of the changing leaves, cooler temperatures, and seasonal activities. Here are eight of the best places for your child to ride a kick scooter for some fall fun.
Visit an apple orchard. Don't forget to take a backpack to bring home some juicy apples and fresh cider.
Try fall ice cream flavors. Scoot over to the local ice cream parlor for some delicious autumn treats.
Visit the library. Grab a few good reads and cozy up on the couch with a cup of hot cocoa.
Find a pumpkin patch. Make a day of it by riding to a local pumpkin patch to pick out Fall decorations and the perfect pumpkin for carving.
Head to the park. Every kid (or kid at heart) loves a day at the park. It's the perfect place to explore with a kick scooter.
Ride to school in style. What better way to start the school day is there than arriving on a kick scooter after a ride through the fresh air?
Explore a bike trail. Bike trails are the perfect place to connect with nature, get some exercise, and spend time outside with family and friends. Your child should always wear a helmet, use LED lights, and obeyall posted rules for a safe, enjoyable trail ride.
Ride to the zoo. Fall is a great time to visit the zoo when the animals are cooler, more active and ready to put on a show! Some zoos will even let children use scooters inside the property.