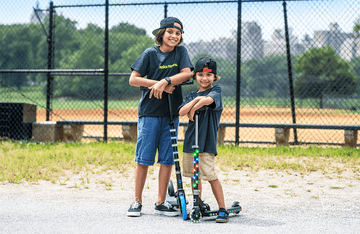 Kick scooters are fantastic; in addition to being a fun toy for your child to play with, they're also a great way to encourage kids to get outside and exercise. In general, they're quite easy to set up and use, with minimal necessary maintenance. 
One of the few things that might need adjusting on your kick scooter is the handlebar, perhaps as your child grows or if the scooter is being shared between two siblings with different heights. This guide will help you learn how to raise and lower a kick scooter handlebar on an adjustable 3-wheel or 2-wheel scooter.
First, you'll want to open the stem clamp located below the scooter's handlebar. There should be a push button on the stem. Press that button, and then raise or lower the handlebar to the height you'd like to use to accommodate the height of the intended rider. When the push button clicks into place into the next available spot, that's your indicator that the handlebar is locked into place. Finally, close the stem clamp that you originally opened to keep the handlebar nice and secure. If you need to tighten the stem clamp, turn the knob clockwise while it's still open, then close it. 
And that's it! It's simple and quick, meaning it should be easy to do, whether you need to adjust the handlebar once every few years or on a weekly basis. Have fun!