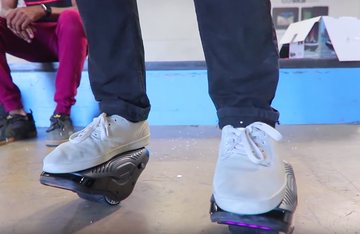 "There's no stopping the power of the Jetson MotoKicks" 
That's what Gabe from Braille Army said about one of our favorite new products!
That's right - Jetson collaborated with Braille Army and sent the Jetson MotoKicks Hover Shoes over. What happened next? Braille Army was a force to be reckoned with once they stepped up on to the MotoKicks. 
The Jetson MotoKicks give you the boost you need every day. The electric hover shoes go up to 7 mph and 6 miles on a single charge - what more could one need?
The folks at Braille Army can't stop raving about how great the MotoKicks are and who could blame them? With anti-slip grips and a 250W hub motor, they're an absolute beast. Not only do they make going around easier, but they do so in style. 
Want to know more? 
Skate your way to school or just ride around the neighborhood with the Jetson MotoKicks. Experience the ease of a skateboard with the power of Active Balance Technology and Pressure Sensors. 
(Just ask the guys at Braille Army, they even used it with a traditional skateboard!)
Get your hands on the Jetson MotoKicks, available right NOW.