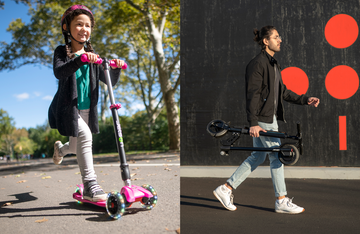 Nowadays, everybody seems to be on the move—all the time. So why not make getting from here to there as creative and fun as possible? Scooters remain one of the most popular and safest ride-on toys for kids, as well as a resourceful, eco-friendly option for busy adults on the go. But just which Jetson scooter is the best scooter for you? Fortunately, we've got models for each member of the family. Before you buy, check them all out below!

Twin Folding Kick Scooter (Ages 5+)
Looking for a sturdy, lightweight model for the energetic tots on your list? The Jetson Twin Folding Kick Scooter is ideal for active, young riders new to scooting. Well-built with longevity in mind, the adjustable handles are perfect for novices hoping to grow with their scooter; dual rear wheel design and rear foot brake ensures a smooth, secure adventure—always. And mom and dad will love the convenience of its compact folding system, great for storing and transporting. Lastly, as an added bonus, colorful LED light-up wheels make for one flashy and fun trip around the block, or to the park and back.  

Tempo Kids Electric Scooter (Ages 8 – 15) 
For those kids looking for something a little bit…extra, be sure to check out the Tempo Electric Scooter. That's right: a sleek and sturdy design, but with a jolt of electricity. The Tempo kicks it up a notch by incorporating a wider deck for increased balance and stability, while the kick motion motor activation and easy to reach thumb throttle allows your pre-teen to cruise at speeds up to 9 mph. But not to worry—Jetson's signature rear foot e-brake eases the motor on a dime, gently bringing riders to a safe and full stop. From the schoolyard to the sidewalks, wherever you're going the Tempo ensures that you are leading the way—in style.

Bio Folding Electric Scooter (Ages 13+)
Let there be light! The Bio Electric Folding Scooter, with its sleek, aluminum alloy frame, is a great option for teens and adults looking to blaze a trail—whether simply tooling around the neighborhood, running errands or racing with friends. Featuring innovative technologies, like kick motion motor activation, Bluetooth capabilities, and a central LED beam headlight running the length of the stem, the Bio is sure to take you on the trip of a lifetime.

Quest Folding Electric Scooter (Ages 13+)
They don't call it a quest for nothing! The Quest Folding Electric Scooter, our most powerful in the family, is the top pick for a clean and convenient mode of transport—no matter where, or for how long, you are traveling. Make the most of your commute, or cruise clear across the city, with Quest's beautiful LCD display, LED head and deck lights, and powerful motor which allows for speeds up to 15 mph. And best of all, if you're planning to hold a family scooter race, you and your Quest will be the ones to beat!